THE WELL-BALANCED VIOLIN STUDIO
Cultivating a Life long love of music in every student
About the Studio
Located in Albuquerque, The Well-Balanced Violin Studio offers Suzuki Early Childhood Education (SECE) classes, Suzuki Violin Lessons, and other customized violin lessons for students ages 0-18.
The studio's mission is to develop each student's highest individual potential of instrumental playing, musicianship, and character. Every child can play the violin, and our aim is that every student can play the violin free from tension.
Our goal is two-fold: to cultivate a life-long love of music in each student, and provide the life-long ability for each student to play the violin without pain or injury.
Why Suzuki?
The Suzuki Method is a natural and step by step approach to music education. The method was developed more than fifty years ago by Japanese violinist and philosopher, Dr. Shinichi Suzuki, after he realized that children all over the world learned to speak their native language from their mothers with ease. This ordinary process occurs thousands of times throughout the world every minute, and demonstrates the extraordinary learning potential in all children. From his discoveries, Dr. Suzuki developed the mother-tongue approach to teaching the violin, based on the way children learn their native language from their mother.
From his discovery that all children have the same potential to learn their native language, Dr. Suzuki had another revelation that talent and ability was not a gift at birth. By observing children learning to speak from their environment, Dr. Suzuki discovered that every child possesses the potential to learn every detail and nuance of their local dialect. This shows that talent and ability can be learned and trained through their environment. From his discoveries Dr. Suzuki called his method Talent Education, believing that talent was no accident, but learned and trained.
In the Suzuki Method, character development of the child is equally important to learning about music and playing an instrument. Dr. Suzuki's dual purpose was to develop noble human beings and provide talent education, so that students can apply the concepts from the Suzuki Method to all learning.
About the Teacher
Jessica Retana (Emery) is the founder and instructor at The Well-Balanced Violin Studio. Jessica is a violin teacher and early childhood music educator that uses the Suzuki Method to teach music to children from birth. She also teaches Intermediate/Advanced violin students the importance of taking care of your body while playing the violin. She believes that preventing unnecessary tension, pain, and injuries at a young age will unlock the ability and enjoyment of playing the violin for life.
Jessica received her Bachelor of Music in Classical Violin Performance from Belmont University in Nashville, TN. She studied with Elisabeth Small, former Associate Concertmaster of the Atlanta Symphony and pupil of Dorothy DeLay, as well as Alison Gooding Hoffman, First Violinist of the Nashville Symphony and founding member of the Grammy nominated Alias Chamber Ensemble.
After her studies at Belmont, Jessica received her Masters of Music in Violin Performance from Southern Methodist University in Dallas, TX where she studied with Diane Kitzman, Principal First Violinist of the Dallas Symphony Orchestra.
Jessica has received Suzuki teacher training from Charles Krigbaum in Violin Books 1-4, and training in Suzuki Early Childhood Education Stage 1 with Lynn McCall and Wan Tsai Chen.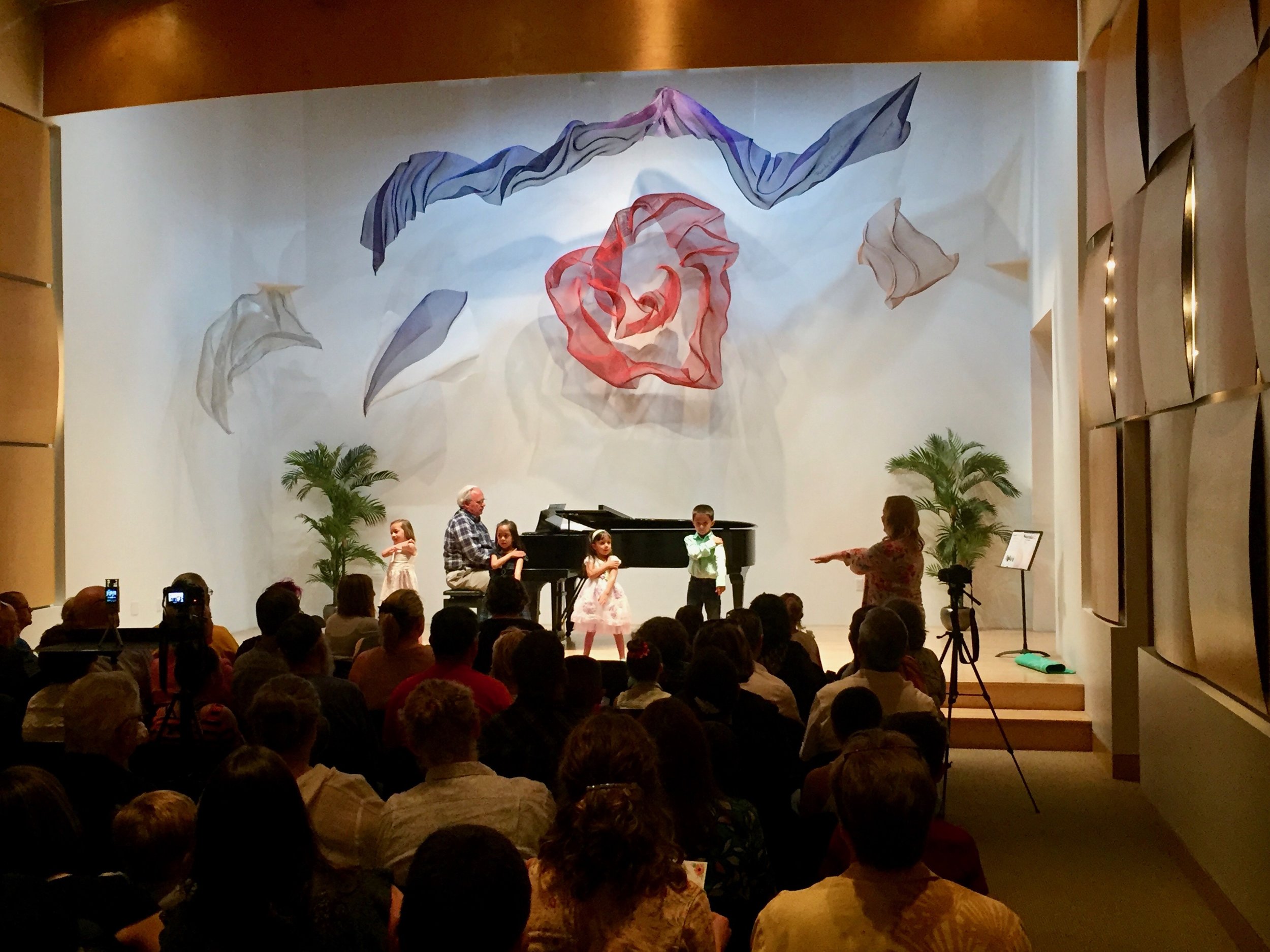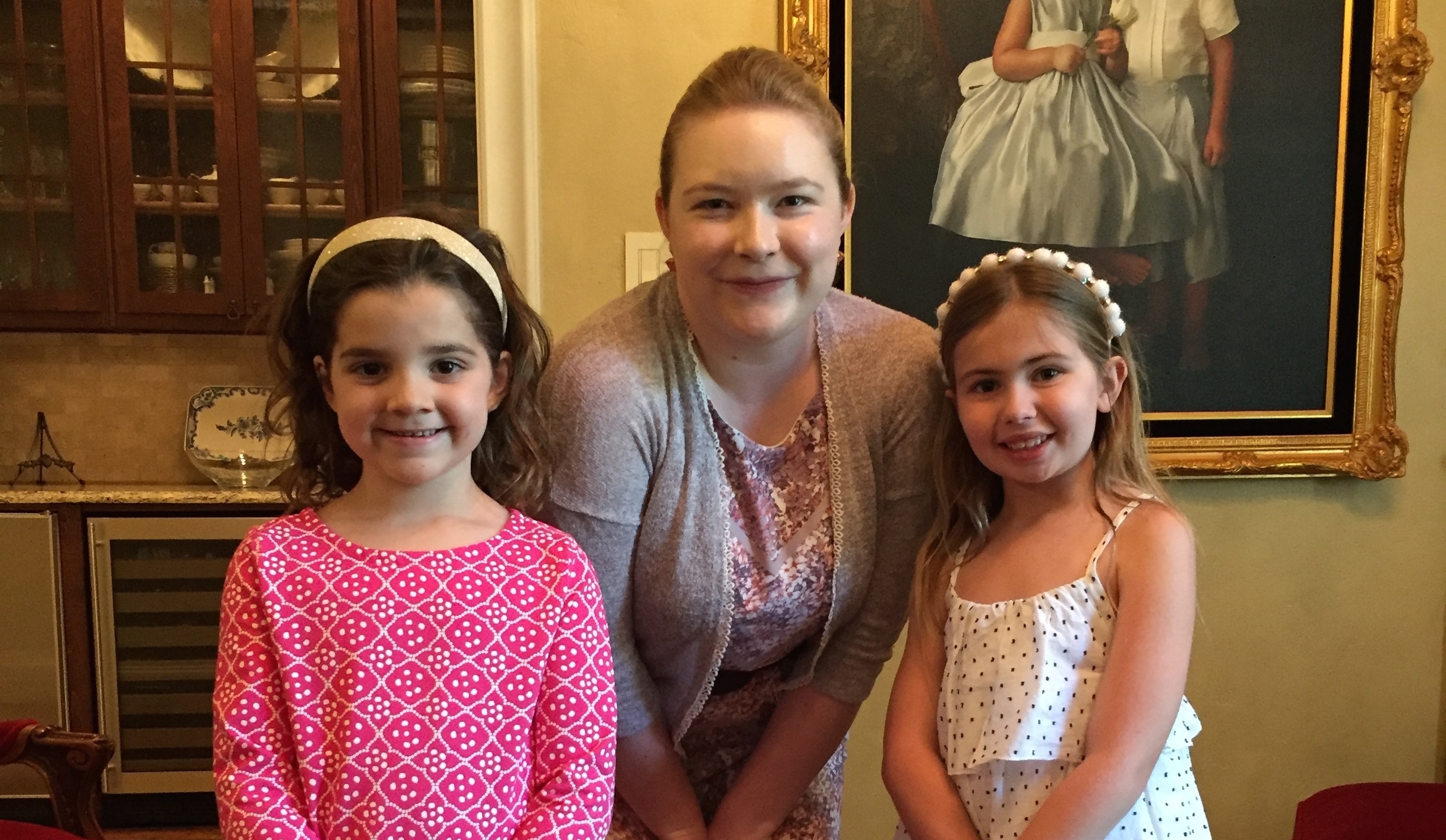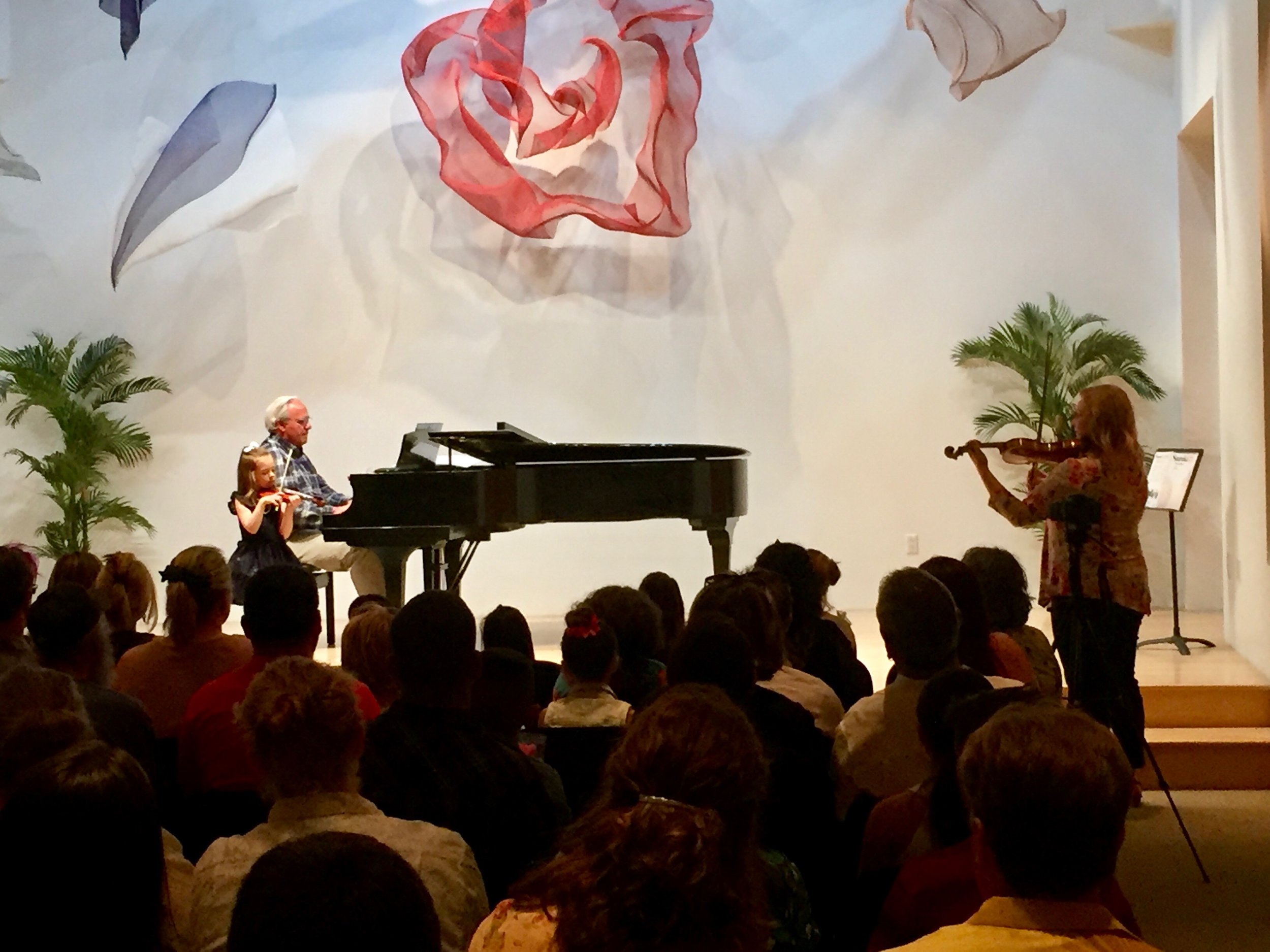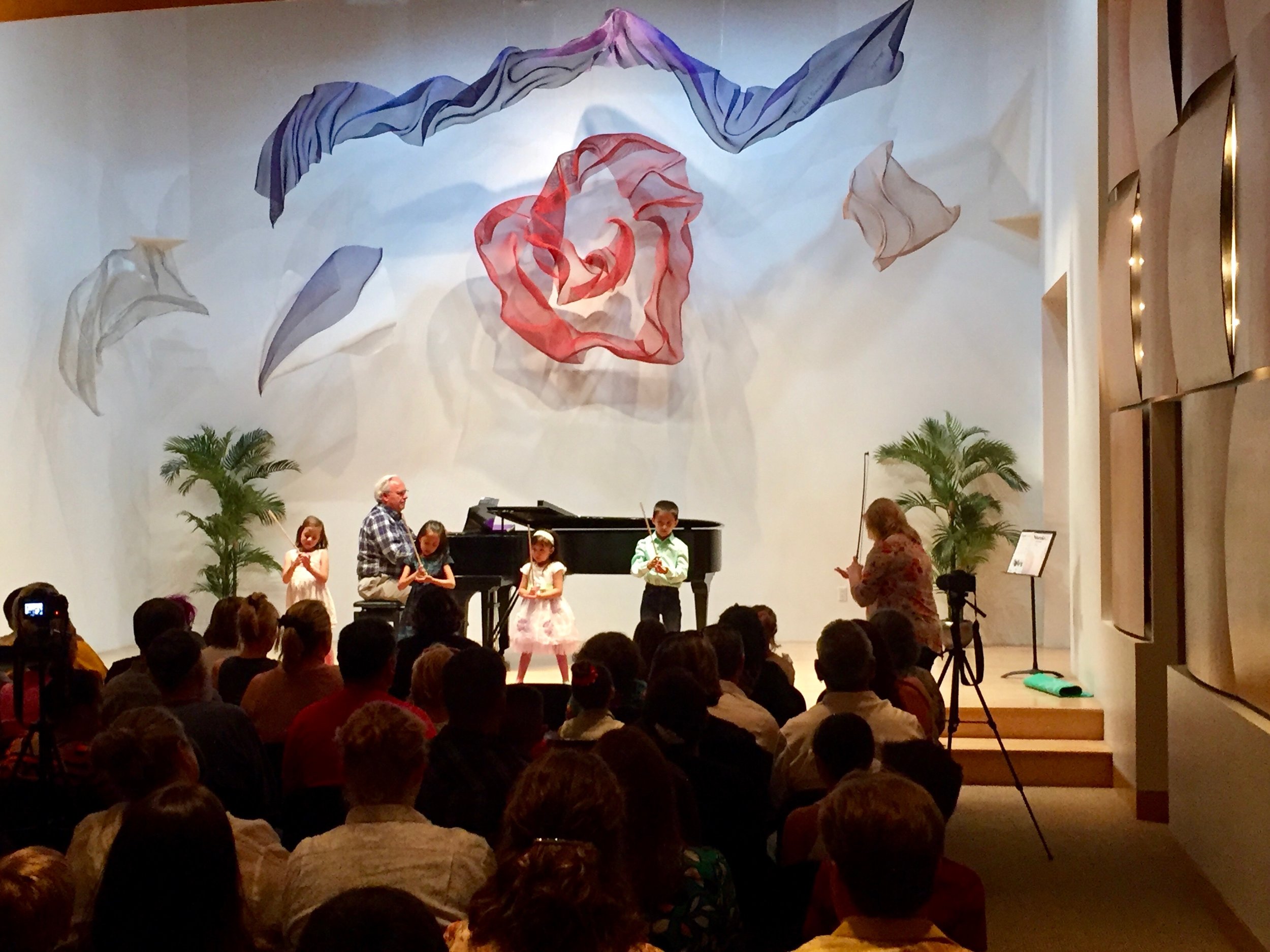 Suzuki Early Childhood Education
The Suzuki Early Childhood Education (SECE) program is a music and movement class for children ages 0-4 with a parent or guardian, and expecting mothers in their third trimester.
The SECE program nurtures the child's musical development from the very beginning. In the class, we sing traditional children's folk songs, incorporate movements and musical instruments, and work on important musical skills, such as making a steady beat, producing beautiful tone, and treating the instruments with care. However through this class, children also learn other important skills, such as the ability to focus, fine motor skills, emotional and social skills, character development, and readiness for preschool.
One of the key concepts of the program is that the ability of a child develops early. The founder of the Suzuki Method, Dr. Shinichi Suzuki, believed that ability develops from age zero, meaning it is never too early to begin nurturing the ability of a child. In support of Dr. Suzuki's claims, scientific studies show that the development of a child begins in utero, and learning begins prior to birth. Many of the children who begin SECE in utero or at birth can develop perfect or nearly perfect pitch by the end of their 4 years of SECE classes.
Through this program, children are able to socialize with others, have fun with music, and develop a memorable and nurturing bond with their parents. The Suzuki Early Childhood Education program is an incredible opportunity to develop ability in your child from the earliest possible moments.
The Suzuki Violin program is a music education curriculum for children ages 4 and up. The program includes a private lesson and a group lesson each week to learn the violin in a nurturing and positive environment. In addition to the private and group lessons each week, students are expected to practice and listen to recordings daily at home in order to be successful. Also, at least one parent is expected to be involved in the lessons and at home to supervise and assist the student as the "home teacher" or "practice buddy". The program includes multiple performance opportunities through recitals and performances in the community each year.
In addition to learning violin and musicianship skills, the Suzuki violin program uses music as a tool to teach children problem solving skills, perseverance, self esteem, time management, concentration, responsibility, leadership, cooperation, creativity, patience, sensitivity, attention to detail, reading, math, cognitive skills, motor skills, character development, and more. These skills are nurtured to prepare students for success in their academic studies and beyond. Students in Suzuki violin lessons have shown significant success in academic studies, and many students who begin violin at an early age go on to study at prestigious universities and Ivy-league schools. In addition to the high academic level, all Suzuki students become musicians and enjoy music for life.
Similar to the SECE program, children are able to socialize with others, have fun with music, and develop a memorable and nurturing bond with their parents in Suzuki violin. This program is an incredible opportunity to cultivate a life long love of music and beautiful character in your child.
Want to Learn more?
Let's Chat!
Violin STUDIO
North Valley (near Griegos & 4th St.)
Albuquerque, NM 87107
Login to My music Staff
For Current Parents and Students